MD, FACP, FASN
Nephrologist
LOCATION
Lynchburg Office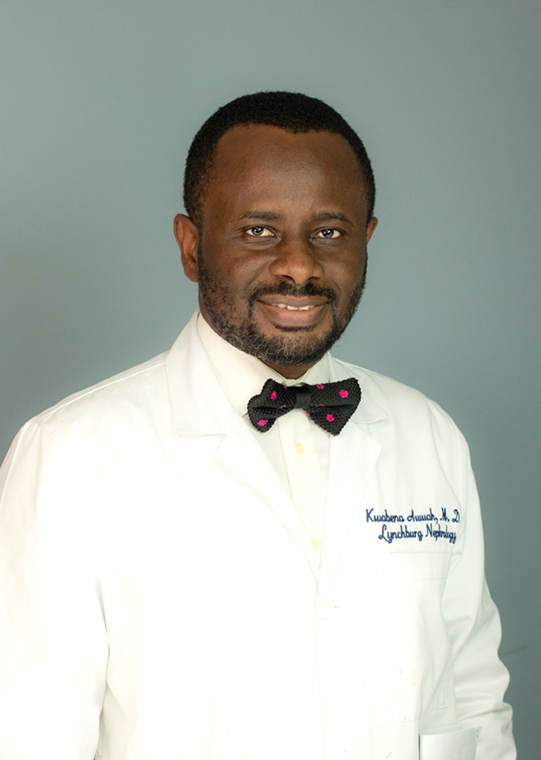 Dr. Awuah resides in Lynchburg with his family and has golf, tennis and soccer as his hobbies.
Fellowship
Yale Nephrology/Yale New Haven Hospital, New Haven, CT
Residency
Yale New Haven Medical Center, Saint Raphael Campus
Medical School
School of Medical Sciences, Knust, Ghana
Certifications, Awards & More
Board Certifications
Internal Medicine
Nephrology (Licensed in the state of Virginia)
Professional/Hospital Associations
Lynchburg General Hospital
Virginia Baptist Hospital
Bedford Memorial Hospital
Centra Farmville Hospital
UVA Dialysis
Gretna Medical Center
Fresenius Dialysis Center
Davita Dialysis Center
Publications
Patients initiating peritoneal dialysis started on two icodextrin exchanges daily. Kwabena T. Awuah, Nancy Gorban-Brennan, Hima Bindu Yalamanchili, Fredric O. Finkelstein; Advances in peritoneal dialysis. Advances in Peritoneal Dialysis, Vol. 29, 2013

Quality of life of chronic kidney disease patients in developing countries. Kwabena T. Awuah, Susan H. Finkelstein, Fredric O. Finkelstein; Kidney International. DOI:https://doi.org/10.1038/kisup.2013.20

Time to recovery after a hemodialysis session: impact of selected variables. Kwabena T. Awuah, Bayode A. Afolalu1, Usama T. Hussein, Radu R. Raducu, Amenuve M. Bekui and Fredric O. Finkelstein, Clin Kidney J (2013) doi: 10.1093/ckj/sft120, 9/29/2013

Intensive Home Hemodialysis Survival Comparable to Deceased Donor Kidney Transplantation. Angie G. Nishio-Lucar, 1, 3 Subhasish Bose, 1, 2, 3 Genevieve Lyons, 1 Kwabena T. Awuah, 1, 2 Jennie Z. Ma,1 and Robert S. Lockridge, Jr.1,2

The experience of dialysis therapy among younger adults. Hima Bindu Yalamanchili 1, Peter Murray 2, Kwabena T Awuah 1, Paul Harden 3, Susan H Finkelstein 4, Fredric O Finkelstein 1. Adv Perit Dial. 2013;29:46-9.

Assessing and improving the health-related quality of life of patients with ESRD. Nat Rev Nephrol. 2012 Dec;8(12):718-24. doi: 10.1038/nrneph.2012.238.